RotoGuru Menu

- 3/9

Baseball



Basketball



Football




General



This site's features are best exploited using Netscape Communicator 4.0 or higher. You can download a Netscape browser free by clicking on the Netscape Now icon.



Base Advances
Fantasy Strategy Ideas from the Guru

Pointing Out the Efficient Frontier


May 17, 2001

Once the season has a relevant track record, I like to look at a plot of player price vs. SWP/game. Sometimes, this type of visual depiction helps to clarify relationships that are often obscured by the clutter of raw numbers.

This year, I chose to subdivide the players in three positional categories: pitchers, infielders, and outfielders. To narrow the analysis, I've only included the top 100 pitchers, the top 100 outfielders, and the top 25 at each infield position. Players with less than 20 eligible games were excluded. Prices and averages are as of noon, 5/17/01. The following chart shows a plot of SW price along the X-axis and SWP/EG along the Y axis.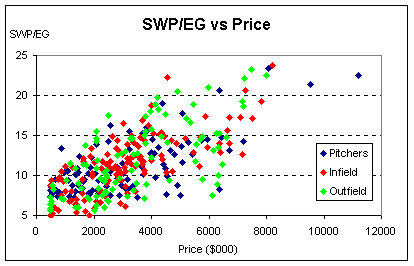 In general, the most efficient players to own are those that lie along the upper edge - the so-called "efficient frontier". These are the players that provide the most points/game for a given price.
First, a few observations by position:
Pitchers: The efficient frontier is very pronounced, with 7 pitchers somewhat evenly spaced across the top. From left to right, they represent Prokopec, Mays, Reed, Schilling, Brown, Johnson, and Martinez. So far, Brown appears to have been the most efficient, as his point seems to lie the farthest above the imaginary trend line across the frontier. And at the middle prices ($1-5m), there is another series of points that falls only slight below the frontier, including Mulder, Burkett, Hawkins, Shaw, Morris, Sasaki, and Radke.
Outfielders: There are many more options along the outfield frontier, and it seems likely that there is room for considerable differentiation without sacrificing efficiency. And with a couple of exceptions, outfielders tend to dominate infielders, particularly at the higher prices.
Infielders: The two most notable outliers - Pujols and Helton - dominate the infield landscape. But other than those two, infielders tend to take a back seat to the other positions - although A-Rod is pushing his way into parity with the top outfielders.
So what are the strategic implications? That's hard to say, since caveats abound. First of all, since prices and averages change daily, this only represents a snapshot of a moving picture. You would be hard pressed to do a top notch managerial job if this data was all you had to work with. Many other factors must be considered.
Second, expensive pitchers can be managed differently than hitters, since rotations allow you to essentially own multiple players in the same slot. So, especially at the expensive end, pitcher management is a different game.
But for the more static portion of your lineup, this chart suggests that you should be more willing to spend big bucks on outfielders, plus perhaps Helton. And you might want to skimp on some of your infield slots, since you don't seem to get as much extra bang for your buck in most of those slots. So as you roster value builds, you might want to upgrade your outfielders first.
---
RotoGuru is produced by Dave Hall (a.k.a. the Guru), an avid fantasy sports player. He is neither employed by nor compensated by any of the fantasy sports games discussed within this site, and all opinions expressed are solely his own. Questions or comments are welcome, and should be emailed to

Guru<davehall@home.com>.


© Copyright 1998-2001 by Uncommon Cents, LLC. All rights reserved.